VARICOSE VEINS AND SPIDER VEIN TREATMENTS IN WALNUT CREEK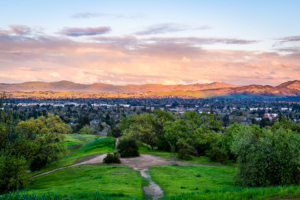 Walnut Creek's active downtown of retail shops make it the perfect location for a fun-filled Saturday. The city's extensive trail system, including the Iron Horse Trail and the Contra Costa Canal Trail, makes walking or biking a positive and productive way to explore the area. Trails are so extensive  that they can be used for recreation or a commute. This option, however, may be unavailable if you suffer from venous insufficiency which is the primary cause of spider veins and varicose veins. Spider veins are commonly a cosmetic condition, with small blue or red veins. However, varicose veins often cause pain and make your legs uncomfortable when on your feet. If you experience these conditions, you're not alone; millions of people in the US suffer from venous insufficiency.
How to Seek Treatment for Varicose Veins
If you reside in Walnut Creek and are looking to find treatment for spider veins or varicose veins, choosing a specialist is the first decision you will have to make. Several doctors or med spas treat spider veins without treating the underlying condition – venous insufficiency. This may help initially, but if the root cause isn't addressed, spider veins recur. It is vital to receive a full diagnosis from a qualified vein doctor who can check if you have venous insufficiency. Check if the clinic you're considering is rated well and if their practitioners have well-regarded experience treating patients with venous insufficiency.
We recommend you reach out to a vascular surgeon for a few reasons:
They are trained and work with the entire vascular system – this includes arteries in addition to veins.
They have all treatment options available to them including surgery if necessary.
They have admitting privileges to a hospital which allows them to bring patients to the operating room when necessary. It also allows them to admit patients for post operative complications. Though rare, non-surgeons need to turn their patient's care over to another doctor in this case.
In the initial consultation, the doctor will take a full history and physical to understand you condition. He or she will discuss your symptoms, medical history, and may perform an ultrasound to determine if you have venous insufficiency. The provider will then determine the best method of treatment to get you up and active again. Following most procedures, the doctor will schedule a follow-up appointment. This visit ensures recovery is progressing properly and allows your doctor to evaluate for any complications.
What Treatment Will Look Like
Treatments are typically done in-office and rarely require a hospital stay. Most vein treatments have advanced to the point that you will be in and out in 45 minutes to an hour with little or no rest time needed. If you address your spider veins, treatment takes 30 minutes, and you may not need a consultation. This option is made available for individuals who have suffered this condition before and don't exhibit symptoms of venous insufficiency or other underlying conditions. Treatment options for all venous insufficiency related problems include the following:
Payment Options
The San Francisco Vein Center accepts most insurances. To check if we are in network with your insurance, visit our page on insurance and vein treatment or give us a call at 415-752-1122. Our staff helps patients to understand their insurance coverage. If you visit another clinic for vein treatment, ensure they are in-network to avoid higher out-of-pocket costs for out of network claims. Insurance covers the initial office visit and most required diagnostic procedures.
When it comes to treatment, it is important your provider submits insurance authorization to ensure your procedure is covered and approved. There are certain requirements to get an authorization approved. The San Francisco Vein Center ensures all authorization requirements are properly documented so that processing is quick and smooth and there are no delays.
Do You Reside in Walnut Creek?
We have two offices just a short distance from Walnut Creek in San Francisco and Daly City. Call for any questions 415-752-1122. You may also make a request for an appointment online.