Varicose Vein and Spider Vein Treatments in San Mateo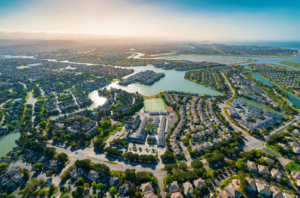 Located just 30 miles from San Jose, San Mateo is a city rich in history. You can discover the natural beauty of the Pacific coastline while taking in the urban charm of Silicon Valley. Well known for its beaches, trails, and national parks, San Mateo is called home by many who enjoy the outdoors.
With blue skies and desirable seasonal weather, our patients most frequently identify their varicose veins or spider veins while exploring the local surroundings. However, these conditions are now easily treated with new medical advancements.
What Causes Varicose Veins
More than 25 million Americans are affected by varicose veins which can cause major pain and discomfort. Varicose veins are not just cosmetic. They are caused by a condition called venous insufficiency which can be diagnosed and treated. Spider veins are often confused with varicose veins. Spider veins are smaller diseased veins that can also be caused by venous insufficiency and treated. While they are generally less serious than varicose veins, a doctor can treat spider veins using sclerotherapy.
Types of Vein Treatments
Treatments and therapies for varicose veins have dramatically improved over recent years. These treatments include vein ablations, phlebectomies, and injections. They are all effective when performed properly to address a patient's specific condition. It is important to be fully diagnosed to determine the best treatment for your condition. Specific treatments are:
Different Specialists Who Treat Veins In San Mateo
There are several different providers in San Mateo who can treat varicose veins or spider veins. Most providers are medically authorized to perform some kind of treatment. However, it does not mean they are the most qualified. For almost all vein conditions, especially complicated cases, a vascular surgeon is the most qualified. They work with the entire vascular system and can perform all treatment options whereas some specialists only perform certain treatments. Specialists who have limited options available are more likely to use a treatment that may not be the best treatment.
Another important factor in considering treatment is if the provider is a surgeon. Vein ablations are performed relatively quickly (usually in about 45 to 60 minutes) and are typically performed in an office. However, some procedures are best performed in an operating room and require a surgeon with admitting privileges to a hospital.
While searching for vein specialists, you may find:
Vascular Surgeons
Interventional Radiologists
Dermatologists
Phlebologists
Internists and Primary Care doctors
Med spas
What Are The Steps For Varicose Vein Treatment?
Initial Visit:  During your initial visit, the doctor will ask you a series of questions about your symptoms and how they effect your day-to-day activities. Some common symptoms may include swelling and pain. The doctor will also look in to your family history of varicose veins as well as other factors that may be significant. Finally, he or she will perform a physical exam of your legs that will help work toward a diagnosis.
Varicose Veins Diagnosis:  If venous insufficiency is suspected, an ultrasound is the best tool to make a diagnosis. Varicose veins are primarily caused by venous insufficiency, which means that the veins are not transporting blood effectively back to the heart. The pressure on the walls of the veins can cause weakness which in turn causes the veins to bulge and become varicose. The ultrasound will be used to test the valves in your veins. It will also be used for taking measurements which are needed for obtaining insurance authorization and treatment.
Individualized Treatment For Varicose Veins:  The doctor will discuss all of the available treatment options that might be right for you. Your particular circumstances are usually unlike anyone else's, and every patient is treated with a personalized plan. Some patients will learn that they do not have venous insufficiency and may be able to be treated with simple sclerotherapy injections for spider veins or compression stockings.
Varicose Veins: Types of Treatment:  The San Francisco Vein Center uses all treatment options including conservative treatments like compression stockings. When conservative treatment is not sufficient, almost all other procedures are routinely done in the office. In more rare circumstances, it may be necessary to perform some treatments in an operating room. Having a skilled vein doctor who is also a surgeon will ensure all treatments are available.
Varicose Veins Follow-Up Visit:  As with most medical procedures, you will be scheduled for a follow-up visit within a week after your procedure. At this visit, the doctor can ensure that you are healing adequately and the veins have been successfully closed. For spider veins, follow-up visits are typically not necessary and additional treatments are scheduled as needed.
Spider Vein Treatment in San Mateo
Spider vein treatment is a much less invasive procedure that uses tiny needles to close diseased spider veins. This is more of a cosmetic procedure that is typically not covered by insurance. In some cases, insurance companies pay for spider vein treatment when it is coupled along with varicose vein ablation. Sessions last 30 minutes. For patients who have questions, we recommend a consultation before getting treated. For more information, see our pages on spider veins.
Does My Insurance Cover Varicose Vein Treatment?
Some vein treatment centers do not take insurance so it is important that you first check that your your provider accepts insurance and is in network with your plan. Almost all insurance plans will cover office visits and diagnostic procedures like ultrasounds. Getting authorized for a vein procedure can be complex. Insurance companies have different requirements. The staff at the San Francisco Vein Center has obtained authorizations for thousands of procedures and can ensure that all requirements are met so that claims are processed without issue.
Scheduling an appointment with a vein doctor in San Mateo
Treating varicose veins or spider veins starts with an office visit. But some patients have questions first. Our staff can answer any questions you need answered before making a visit. Feel free to reach out to our team to book an appointment or call 415-752-1122. It's time to find relief from the discomfort and pain your varicose veins are causing.