VARICOSE VEINS AND SPIDER VEINS TREATMENTS IN EAST BAY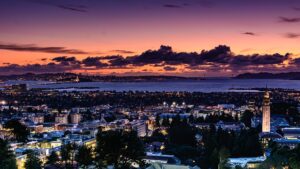 Living in East Bay has its advantages. The East Bay Regional Parks District operates over fifty parks, leaving you with a fair share of choices for your local scenic getaway. Many of these parks operate adjacent to large urban centers open to photographs and exploration. For the intellectual, East Bay has a free weekly newspaper, the East Bay Express, which has reported on the culture and politics of the East Bay for over 30 years. The history doesn't stop there; if you're lucky, you can catch the Solano Avenue Stroll, the oldest and largest street festival in the area. Like the ones listed here, many of East Bay's attractions require walking or standing for long periods, which can be challenging if you suffer from varicose veins or spider veins: a condition caused by venous insufficiency that impacts over 25 million people in the US.
Varicose veins can cause discomfort, pain, swelling and interfere with everyday activities in the East Bay. On the other hand, Spider veins are less severe but still may be debilitating to self-image or lead to a worse injury. Regular activities that once came easily, like visiting the Bay Area Ridge Trail, can become burdensome with either of these conditions. However, there is positive news, and treatment options are available. A doctor may recommend one of these depending on your symptoms: radiofrequency ablation (RFA), endovenous laser therapy (EVLT), VenaSeal Closure, or sclerotherapy.
Finding a Specialist for Your Vein Treatments
Finding a truly qualified vein specialist is not always easy. Different types of doctors often treat veins, but they are not all the same. To ensure you're getting the doctor you need, here are a few things you should look for.
The practitioner should have the right qualifications: The doctor you choose should specialize in vein treatments. There are doctors who are not necessarily trained to specialize on the vascular system – most importantly veins. All varicose vein cases are not the same. It is critical a physician have enough experience that they can identify the best treatment plan. Additionally, they should be a surgeon as not all physicians are qualified to use all treatment options. While treatment is quick (45-60 minutes) and usually straight forward, for some, treatment in an operating room or outpatient setting is necessary. Not all physicians have access to these facilities. If complications occur, you want a doctor who has admitting privileges to a hospital. Therefore, it's best to use a licensed surgeon.
The doctor should be in good standing: Look online for the reputation of the clinic you may use to treat your varicose or spider veins. Ensure other customers have left happy, and read reviews regarding your specific doctor to see their experience with the treatment. In addition, ask about the doctor's board certification. You want the most qualified for your vein treatment.
How to Begin Treatment if you are in the East Bay
The San Francisco Vein Center offers online patient registration and a flexible appointment schedule to accommodate your busy life. If you would like to start the process, a consultation is always the first step. Our doctors will ask about your health history and symptoms at the consultation. They will likely give you an ultrasound to determine the best treatment method for your unique case. Our front desk staff can also answer many questions you may have. We typically schedule a follow-up appointment to ensure recovery is going as expected.
If your treatment is to combat spider veins (sclerotherapy), you can make an appointment and use our online registration portal without a consultation. We keep this option open for patients who typically don't have venous insufficiency or other underlying conditions and have had sclerotherapy before. To find out if you qualify, read more about spider veins on our website.
What will it cost?
Are you right for treatment? We can answer any preliminary questions about insurance and procedures. All consultations and almost all treatment options are covered by insurance. You can also see a list of health insurance companies that are in-network with us. Even if you do not see your insurance company on this list, it is worth contacting us to check. We are in network with many insurance companies and IPA groups. Almost all procedures are done in-office, and there is minimal recovery time – if any. All insurance plans have different coverage. If you need help understanding your plan, we can help. We also offer self pay for patients without insurance. Contact San Francisco Veins Center at 415-752-1122 to get started.
Schedule Your Consultation
If you live in East Bay and are experiencing the discomforts that result from varicose or spider veins, don't hesitate to reach out. You shouldn't have to endure pain or discomfort any longer than you already have. Schedule your first visit over the phone, or make an appointment request to begin the path to recovery.