VARICOSE VEIN AND SPIDER VEIN TREATMENT OPTIONS IN OAKLAND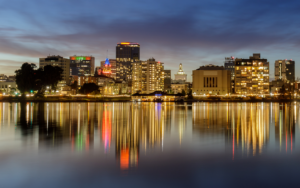 If you're looking for a packed weekend of activities, Oakland might be the perfect place for you. The revitalized city is home to the Oakland Athletics professional baseball team, the Fox Oakland Theatre, Chabot Space and Science Center, and countless other local attractions. The city also boasts the highest concentration of artists per capita in the United States. Districts throughout the city serve as cultural hubs for residents to explore the world while always remaining close to home. However, even venturing close to home can be a painful chore if you have to endure the pain caused by varicose veins or spider veins.
Venous insufficiency Impacts millions of people throughout the US and often results in varicose veins or spider veins. Varicose veins can cause discomfort, soreness, and abnormal protrusions or coloration on the legs. When left untreated, they can become progressively worse until your lifestyle is upended. Those in Oakland experiencing varicose or spider veins regularly seek treatment to ensure their active way of life remains on track.
Venous Insufficiency Treatment Plans
Treatment options for varicose and spider veins are numerous and typically non-invasive. Recent advances in the field have allowed patients to go about their day in little to no time following a procedure. Most can be done in less than an hour and don't even require a hospital stay. Since Oakland residents are frequently active, they normally choose one of these four plans as a way to jumpstart their recovery:
If your goal is to treat spider veins or varicose veins, the first step is scheduling a consultation. This appointment will involve a check of your medical history, a full examination, and possible ultrasound. The doctor will then form an accurate diagnosis and a unique treatment plan to address the symptoms and lower any further risk of complications. Almost all vein-related procedures have little or no recovery period and are done in the office to provide a comfortable patient setting.
Who you pick for treatment can influence your level of care. Make sure to identify a board-certified physician that specializes in the vascular system, like a vascular surgeon. They can address the root cause of your varicose veins or spider veins and keep your treatment options open. Non-surgeons are limited in the type of treatments they can perform. Take into account their customer ratings and hospital admittance privileges. Search for positive reviews from former patients who have had a similar problem to determine the physician's success at treating venous insufficiency. Furthermore, ensure the doctor can treat you in a hospital for possible post-operation complications.
If you plan to receive spider vein treatment (sclerotherapy), you can skip the consultation and go straight to making an appointment. This option is for patients who have had sclerotherapy previously and don't have venous insufficiency or other underlying conditions. To see if you qualify, read more about sclerotherapy on our website, or give us a call to answer any questions.
Vein Treatment Costs
We accept all major insurance providers for your consultation and subsequent treatments. You can look at the list of health insurance companies that are in-network. Our staff can answer any questions about insurance coverage for varicose veins. While cosmetic services for spider veins usually don't fall under the insurance net, our staff will help you determine out-of-pocket costs so you can make the decision that best works for your lifestyle.
Want to See a Vein Doctor in Oakland?
If you reside in Oakland, we have two office locations across the bay for your convenience. Call us at 415-752-1122 for your any varicose vein and spider vein treatment questions. We have online registration and flexible appointment options similar to health centers like the Alta Bates Summit Medical Center or Alameda County Medical Center provide. You shouldn't have to endure the aches and pains that result from venous insufficiency. Feel better about yourself. Get back to being active and exploring Oakland in a way only your know-how. You can also request to schedule your consultation online. Our office will guide you through the process.