Spider Veins and Varicose Veins Treatment in San Rafael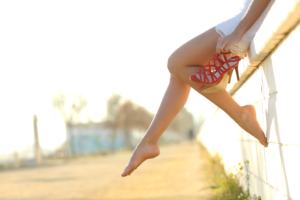 As the county seat of Marin, San Rafael is home to a diverse population. The mild winters give residents the option to enjoy outdoor activities throughout the year: McNear's Beach, Peacock Gap Golf Club, China Camp State Park, and more. Enjoying outdoor places like these can be challenging if you are suffering from varicose veins or spider veins and want to feel confident and comfortable.
Venous insufficiency is a condition that affects millions of people in the US, including residents in San Rafael. This disease is the underlying cause of varicose veins resulting in discomfort, cosmetic concerns, and even pain. Commonly, spider veins can be another potential symptom of venous insufficiency.
Sometimes, vein disease can be purely cosmetic, making people feel self-conscious about the appearance of their legs. But when untreated, varicose veins can get worse, and eventually interfere with your lifestyle. Active people in San Rafael and the nearby communities seek vein treatment to look and feel better so they can continue enjoying sports and fitness activities.
Varicose Vein Treatment Options
If you have varicose veins, the good news is that a variety of new treatments are available with fast and effective solutions to get you back on your feet again. Most of these procedures require minimal or no downtime and can be done in an office or out-patient clinic.
Residents in San Rafael prefer non-invasive vein treatments so they can return to their favorite activities as soon as possible. There are various procedures to treat both spider veins and varicose veins. A specialist can diagnose and choose the best treatment for you. Procedures include endovenous laser therapy (EVLT), sclerotherapy, radiofrequency ablation (RFA), and VenaSeal Closure.
Tips to Select Vein Treatments in San Rafael
You can seek varicose vein or spider vein treatment in San Rafael. However, many patients travel to the city to work with vein specialists. You want a positive outcome, which is why it's essential to choose a qualified physician. Here are a few tips to help:
Surgeon vs. Non-Surgeon: Some doctors who treat veins are not surgeons. As a result, they have limited treatment options. It's recommended that you choose a surgeon who can perform the full spectrum of available treatments. Physicians who can not perform certain treatments may choose solutions that are less effective or not effective at all.
Hospital Admitting Privileges: Some physicians do not have privileges to admit patients to the hospital. Not only does this narrow their treatment options, but it also prevents them from being able to treat you for post-operative complications that may require a hospital facility. Be sure to seek a vein doctor that has admitting privileges to a hospital.
Office Reputation and Qualifications: Do your homework and check the reputation of the clinic you are considering. In addition to reading online reviews about the doctor, ask for information about the doctor's board certification.
Consultation for Varicose Vein Treatment
A consultation is always the first step if you are ready or would like to learn more about vein treatments. The San Francisco Vein Center offers online patient registration and flexible appointment scheduling to accommodate you. When you come for a consultation, the doctor will perform a thorough examination, ask about your health history and symptoms, and may use an ultrasound to diagnose and determine a treatment plan.
We are proactive about supporting each patient's goals, dedicating plenty of time to answer questions and help you compare treatment options. Additionally, follow-up appointments ensure the ongoing success of your treatment.
If you need spider vein treatment (sclerotherapy), you can schedule a treatment appointment without booking a consultation. This option is available for patients who've had sclerotherapy before and typically don't have venous insufficiency or other underlying conditions. Read more about sclerotherapy here on our website.
Cost of Vein Treatments
Many insurance plans cover diagnostic ultrasounds, office visits, and treatments for varicose veins. San Francisco Vein Center is not a member of Marin Health, but we take all major insurance providers.
When cosmetic procedures are needed for spider veins, insurance usually doesn't cover the treatments. Every situation is unique, which is why it's best to work with your insurance provider and our knowledgeable staff to understand your insurance coverage.
Schedule with a Vein Doctor Near San Rafael
It's time to find relief from the discomfort and pain your varicose veins are causing. We also provide cosmetic solutions for spider veins. If you are in San Rafael, reach out to our team at the San Francisco Vein Center to book an appointment: 415-752-1122.