COMPRESSION STOCKINGS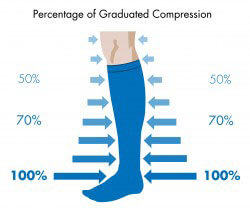 Compression stockings or compression socks are one of the easiest and most cost effective ways to treat venous insufficiency which is the cause of varicose veins and even spider veins. In fact, compression therapy is one of the mainstays in treating venous insufficiency in all of its forms.
Compression stockings work by compressing the superficial veins which are closer to the surface of the legs. These are the veins that most commonly fail and cause varicose and spider veins. The compression helps to redirect blood flow into the functioning veins like the deep venous system. The decreased pressure on the surface veins helps to relieve symptoms like swelling, pain, and heaviness.
Stockings should be worn during the day and removed at night. Most patients find that compression therapy makes their legs feel much better!
Compression stockings to avoid surgery
Compression socks are the first line of conservative therapy to treat venous insufficiency. If they relieve the symptoms there may be no need for any surgical procedures. Not only do we suggest using compression stockings first, but most insurance companies require patients to use this conservative therapy before approving any kind of procedure. Also see Alternate Medicinal Therapies.
Use compression stockings after varicose vein and spider vein treatment
Compression stockings can help to treat most conditions caused by venous insufficiency. These include varicose veins, spider veins, reticular veins, and venous ulcers or wounds. After spider vein treatment or varicose vein surgery, compression is one of the most important factors for successful recovery. By relieving pressure on the treated veins, they help to lessen the chance for recurrence.
Is it necessary to have a diagnosis to use compression stockings?
Really anyone can use compression stockings. It is not necessary to be diagnosed for a particular condition. Many athletes use compression for recovery as well as during exercise. People who have professions that require standing for long periods of time can also greatly benefit. This is because compression stockings help blood flow work against gravity and relieve pressure on the venous system.
Strength
Compression socks generally have two different strengths: 20 – 30 mmHg and 30-40 mmHg. This measurement relates to how tight they fit. The lower numbers correlate to a looser fit and the higher numbers correlate to a tighter fit. Note that the amount of compression needed to improve venous insufficiency symptoms is sometimes higher than what's available in the drug stores and requires a prescription. At the San Francisco Vein Center, we always give a prescription to patients who need compression socks.
20-30 mmHg
This is the weaker strength but it is still effective. 20-30 mmHg  is usually for people with mild spider veins or varicose veins. This strength is also used for people who have difficulty putting on the compression stockings.
30-40 mmHG
The tighter compression stockings is 30-40 mmHg. This is the optimal strength for most people with documented venous insufficiency, skin changes, or ulcers.
Thigh vs knee high
Compression stockings come in two different styles – thigh high and knee high. It is preferred to have the stocking go as high has the affected veins. For example, patients who have sclerotherapy performed above the knee should wear thigh high stockings. Most people prefer wearing knee high compression stockings over thigh high. However, even if you have varicose veins as high as your thigh, knee high stockings are still effective. The most important thing is to wear the stockings regularly.
Sizing
Sizing is critical. It is necessary to measure the calf, ankle, and sometimes the thigh. Most manufacturers provide a sizing chart that converts their sizing schema to your measurements. Once you have your measurements, you can use the sizing chart to determine what size you need for the brand you want to buy. Most medical supply stores have certified stocking fitters who can help measure as well as help with instructions putting them on.
Applying stockings
Putting on compression stockings takes a little skill and time. Many medical supply stores supply special rubber gloves to make the process easier. There are also other application devices such as stocking donners. Some find these aids helpful and many find that after some practice, they can apply the stockings fairly easily. If you purchase stockings through a medical store, ask for a demonstration. Making it easier to put the stockings on will increase the chance of wearing them regularly.
Cost
Compression stockings can range from $65 to $120 for a pair from a medical store or medical supplier. If you already know your size, you can also find them on the Internet. At the San Francisco Vein Center, we supply stockings for our patients as a convenience for a reduced cost. Sometimes insurance will cover the cost but most often it is not covered. Some of our favorite brands are Medi and Jobst but there are many others out there that work just as well.
Where to buy
In the rare case were we may not have a size for a patient we will refer them to a medical supply store. Here are a few stores in San Francisco, San Mateo, and the East Bay. We have also include a few online sites for those who live outside the San Francisco Bay Area.
Where to buy varicose vein socks
Here are some medical supply stores if you live in the Bay Area near San Francisco or San Mateo and some online sites if you live outside the Bay Area.